Sunday, August 18, 2013:
In tonight's episode, nostalgia will prevail as Indian Idol 6 winner Vipul Mehta along with the finalist Poorvi Kautish and Amit Kumar will make an appearance on the show. The ex-Indian Idol contestants will be seen extending their support to the juniors by singing alongside them. However one Idol junior's dream will come to an end as the show witnesses
Sonakshi Kar
elimination.
The countrdown has started and
Indian Idol Junior
has reached its top position. Now, these children are fighting it out to stay till the grand finale and win the title.

This Week Elimination - Sonakshi Kar
Top lucky contestants of Indian Idol's TOP 5 includes,
1. Anmol Jaswal,
2. Nirvesh sudhanshubhai Dave,
3. Debanjana Karmarkar,
4
. Anjana Padmanabhan,
5. Sughandha Date.
P
lace:
Kolkata, West Bengal
Sonakshi started learning classical music at the age of five from Joyonto Sarkar. Her father is a singer and her grandfather used to teach music. "I am enjoying everything but thinking of the elimination process makes me nervous," she says. She too wishes to meet Lata Mangeshkar some day. Does she watch her performance on television? "No, we are not allowed to watch any of the Idol episodes. I get the feedback from my father, relatives and friends. My father records every episode. I will watch them when I go back." She loves collecting bags/purses. "I ensure that I always carry a purse wherever I go, and even when I sing on the show," says Sonakshi. She hopes to become a Hindi and Bengali playback singer.
(Indian Idol Junior )
Get ready for some scintillating performances with Top 6 on Indian Idol Junior as Sukhwinder Singh makes an appearance on the show.

The contestants will be seen performing on some popular bollywood numbers. Sukhwinder will be seen completely mesmerized by the showcase of talent on the show.
Watch the special episode of
Indian Idol Junior
with Sukhwinder Singh, this Saturday 17th August, 8:30 pm only on Sony Entertainment Television.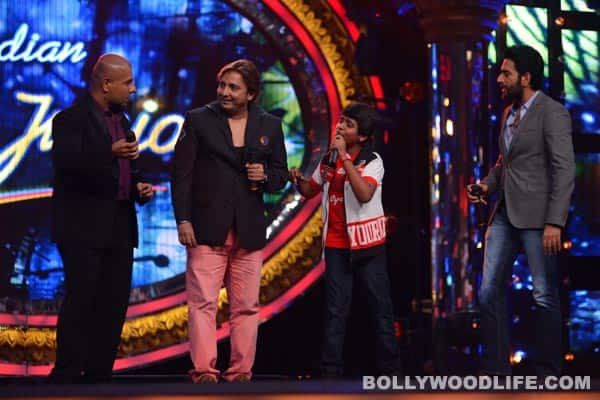 0

The singer recently graced the sets of the reality show and was mighty impressed with the little contestants

Sukhwinder Singh made a special appearance on Sony TV's popular singing reality show

Indian Idol Junior

. And the versatile singer enjoyed all the six performances thoroughly. But Sukhwinder was particularly impressed by Nirvesh, Debanjana and Anmol's singing. While Nirvesh mesmerised everybody by crooning

Lagan lagi

, Debanjana's rendition of

Rasmein ulfat ko nibhaye kaise

too was applauded. And the three judges including Sukhwinder Singh appreciated their performance by giving them a standing ovation. That's just not it!

The judges as well as the audiences went gaga over Anmol after he sang

Chappan tare

and even screamed 'once more, once more'. After Anmol's electrifying performance, Sukhwinder along with Vishal Dadlani and Shekhar Ravjiani set the stage on fire by with their dance moves, leaving the audience asking for more.

Indian Idol Junior: Sukhwinder Singh shakes a leg with Vishal-Shekhar Episode 1

In the first episode, the guest judge was Vidya Balan and the contestants had to sing Bollywood songs with some of the well known singers. Anmol was paired with Rahul Vaidya, Nirvesh with Shruti Pathak. Debanjana sang with Arijit Singh, while Sonaski sang with Harshdeep Kaur. Akash was paired with Shilpa Rao, and Anjana with Papon. Aryan sang with Bhavya Pandit, and Priyam with Benny Dayal. Sankalp sang with Neha Bhasin, while Eman sang with Dominique Cerejo and Sugandha with Soham Chakraborty. Anjana, who had sung with Papon, was the performer of the day, and won a fixed deposit of 1 lakh rupees.


Episode 2

This episode had Bhaag Milkha Bhaag's lead actor Farhan Akhtar & director Rakeysh Omprakash Mehra as guests. Anmol won the Performer of the Day title.


Episode 3

Sonakshi Sinha and Ranveer Singh from film Lootera came to support the contestants and promote their upcoming movie Lootera. Akash was the Performer of the Day.


Episode 4

The fourth episode was the first episode to have an elimination. While judge Shreya Ghoshal was not present, Kavita Krishnamurthy sat in. This episode was a tribute to Manna Dey, and the contestants sang duets. Anmol sang with Sankalp, and Nirvesh and Sonakshi again teamed up (they had also sung together in the 2nd theatre round). After that, Priyam & Akash sang together, and finally Aryan & Sugandha. As for Debanjana, Anjana, and Eman, the "three Devis" as Kavita Krishnamurthy called them sang a medley of Dey's songs. Eventually Sankalp, Aryan, & Sugandha were in the bottom three, and Sugandha & Sankalp were declared safe while Aryan was eliminated.


Episode 5

This episode had well known actor Govinda in for Shreya Ghoshal.


Episode 6

This episode had Shankar-Ehsaan-Loy as guests. Shreya Ghoshal also returned after missing 2 episodes. In the end, Eman, Priyam, & Sonakshi were in the Bottom 3 but they decided to have no elimination. Their scores would be combined with the scores from the next week, and afterward they would have the Top 9...


Episode 7

This episode had actors Tusshar Kapoor & Ravi Kishan as guests. Eman, Priyam, & Sonakshi, who were in the bottom 3 last week as well, were also in the bottom 3 this time. Priyam & Sonakshi were declared safe while Eman was eliminated.


Episode 8

This is episode featured well known singer Bappi Lahiri as a guest. Nirvesh & Debanjana made their debut in the Bottom 3 while Sankalp returned for another spot in the Bottom 3. Eventually Sankalp was eliminated.



Episode 9

Shahrukh Khan and Deepika Padukone featured as special guests to promote their upcoming film "Chennai Express". The Juniors presented with songs featuring Sharukh Khan.


Episode 10

Veteran singer-music composers Salim-Sulaiman featured as special guests and all the songs were dedicated to them. Debanjana Karmakar was declared the "Performer of the Day". Eventually, Priyam, Akash and Anmol were in the bottom three.....and finally the result was the elimination of Akash Sharma. He ended the episode with a song and his journey through the show.


Episode 11

Eid special. Juniors were to sing Qawwali Style songs. Actors Imran Khan and Sonakshi Sinha were feature as special guests to promote theier upcoming film, "Once Upon a Time in Mumbai: Dobara".

Episode 12 - Independence Day special. Juniors sang patriotic songs in praise of India. Anjana made her place in the Bottom 3 for the first time, while Nirvesh and Priyam returned for another spot in the Bottom 3. Finally,

Priyam was eliminated

and ended her journey with an Assamese song and bade adieu to the stage of Indian Idol Junior.
Contestant
1
2
3
4
5
6
7
8
9
10
Sugandha
LOW
IN
IN
IN
IN


Anjana
IN
IN
IN
IN
range;">LOW


Sonakshi
IN
LOW
IN
IN
IN


Debanjana
IN
IN
LOW
IN
IN


Nirvesh
IN
IN
range;">LOW
IN
LOW


Anmol
ffwhite;">IN
ffwhite;">IN
IN
range;">LOW
IN


Priyam
IN
range;">LOW
IN
LOW
OUT


Akash
ffwhite;">IN
IN
IN
OUT


Sankalp
range;">LOW
IN
OUT


Eman
IN
OUT


Aryan
OUT


(WINNER) The contestant won the season and became "Indian Idol Junior".
(RUNNER-UP) The contestant made it to the Top 3, but did not win, becoming a Runner-Up of the season.
(IN) The contestant was safe from elimination.
(LOW) The contestant was in the Bottom 3 but was declared safe first and was not eliminated.
(LOW) The contestant was in the Bottom 3 but was declared safe second and was not eliminated.
(OUT) The contestant was in the Bottom 3, and was eliminated.